March 2015 DCS Training
25 March 2015

Red6 and Red7 (the Synchro pair) have begun work on integrating the second part of our show into the routine. This consists of the team splitting into two groups- Known as Enid, (Reds1 to 5) and Gypo(Reds6 to 9.) Gypo generally has the more experienced 4 pilots of the team and they perform the more dynamic head on passes and splits. Work will now continue on perfecting the various elements that make up part two of our show.
During the last few months Enid (Reds 1 to 5) have been introducing some of the new applicants to ever more complex routines. During these flights and subsequent debriefs the pilots are evaluated. Work continues on this and pilot selection for the 2015/16 season..
Here are a few Screenshots of Reds6 and 7s Practice..
Merry Christmas
22 December 2014

Well, that's us concluded the first part of our winter training which consists of small formations of up to 7 aircraft. During this time we have our recruit tryouts in the first sortie of the training session. During the second sortie the active pilots have been slowly putting together the different elements of the display routine. The recruit applicants sit in on these sorties to gain experience on the procedures used in the routine.
We'll be taking a small break over the festivities so we'd like to take this opportunity to wish you all a very Happy Christmas and a fantastic New Year.
The Pilots
Virtual Red Arrows
Training Update
28 November 2014

We reached another milestone this week when Red8 and Red9 joined Enid, Reds1 to 5, to make our first 7ship practice sortie for the 2015 Season. We were able to do some spacing checks in various formations then run through part 1 of our 2015 Display Routine...
Enid have been busy in the weeks leading up to this by slowly adding more aircraft to the formation and increasing the complexity of the routine. Once this initial phase is over Enid then begin flying through the display route, slowly adding in the smoke and formation calls, when Enid reach this stage parts of the second element, known as Gypo, can join the group.
Here for your viewing are a couple of screenshots of the flight,
Enjoy..
Status update
25 November 2014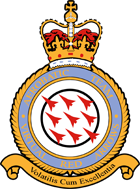 Dear fans and aviation gurus,
We hope you enjoyed VFAT this year and we'd like to congratulate all the participating teams. We would like to take this opportunity to make an announcement to prevent any confusion. The VRA were unable to display at VFAT this year. As of 3 months ago we decided to cut all ties with VEAO and the DCS Hawk development project. Due to a termination of service contract we are unable to discuss this further. However we want to make clear that we are not affiliated in anyway with VEAO or related teams. This was necessary in order for us to continue doing what we love. Our fans are what drive us to strive for that perfect show and we always enjoy reading your feedback and words of support.
In moving forward we are continuing to train and hope to share exciting news and teaser screenshots with you in the coming weeks. Remember we are recruiting new pilots for our 2015 season so if you think you have what it takes, please get in touch.
VFAT 2013 Arrival Flight Screenshots
20 November 2013

Thank you to everyone who supported us by watching live on Sunday 17th November.
If you missed the flight you can still catch
a replay by clicking here
.
Here are some stills taken of the flight:
VFAT 2013 Arrival Flight (Live)
15 November 2013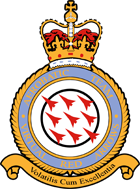 The VRA will be flying our live arrival flight on
Sunday 17th November at 19:00 GMT
.
The purpose of this flight is to test our connection with the Virtual Airshows streaming server in preparation for our full live display in early December. The test flight allows us to check various technical aspects such as streaming quality and audio levels. This will be a short live flight with all 9 pilots and the team cameraman.
Pending a successful test, the flight will briefly show you what to expect of the VRA at VFAT 2013 this year, we welcome viewers and hope you enjoy the short routine.
There are a few other arrival test flights being conducted following the VRA so be sure to stick around on the streaming channel to see what other teams have been working on this season.
Tune in at 19:00 GMT on the 17th by clicking here.